How to purchase a soundcast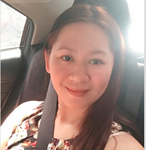 Updated by Charis
If starting from the Soundwise mobile app in iOS
When you use an Apple device to purchase the soundcast using Soundwise app "discovery" option. It will send you a Signup instruction email to register for that soundcast. Once you received the signup instruction e-mail. Please click "here" to open the soundcast landing page to purchase and follow steps 1 to 5.

If starting from the Soundwise mobile app in android
If using an Android phone to purchase any soundcast. Please click on Discovery>> search for the soundcast and follow the steps 1 to 5.
If starting from a web browser (on the soundcast sales page)
Click on "Get Access" to purchase the soundcast. We are using "Sell Anything to Anyone with Powerful Storytelling" soundcast to demonstrate the steps.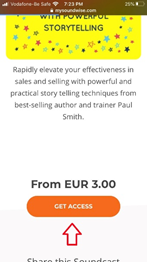 Confirm the amount and hit "checkout". This option only comes when soundcast has more than one purchase option. If there is only one purchase option it will go to next option.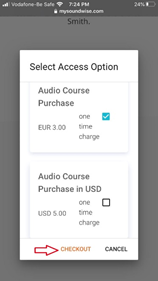 Please fill the details. Make sure you do not make any typo error while entering email address.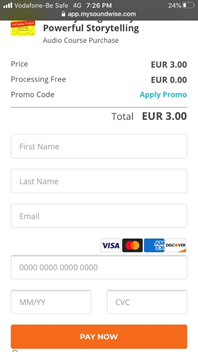 Please enter the password of your Soundwise account. If you do not have an existing Soundwise account, please enter a password to create an account.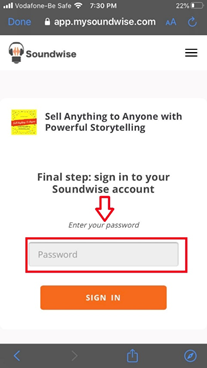 This is the final screen which confirms that you have successfully subscribed to the soundcast.