Quick Start: How to create and publish a podcast in 30 minutes on Soundwise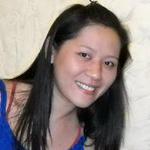 Updated by Charis
On traditional podcasting platforms creators have little information about their subscribers. You don't know who have subscribed. Neither can you reach out to your subscribers other than talking "at" them in your podcast. In contrast, on Soundwise not only can you easily create and publish your podcast episodes, you will also get detailed insight about your individual subscribers, to help you build an engaged fan base around your podcast.
This guide will show you how to quickly create and publish a podcast from Soundwise in three simple steps, and start getting subscribers!
Step 1: Create A Soundcast
All the audio content published on Soundwise are organized as "soundcasts". Think of a soundcast as a podcast, an album, an audio course or series. Soundwise allows you to publish as many soundcasts as you like, for free. When you first log in to your publisher dashboard, you will see the "Add New Soundcast" button. Click on that to create a new soundcast.

Once you're on the soundcast editing/creation page, you want to have the "this is a public soundcast" option switched on, so that your podcast is publicly accessible.

Required Information
Here're the required informational items you need to fill out for your podcast.
Title: The title of your show (we recommend 60 characters max).
Short description: Briefly explain the theme of your podcast and its value to your listeners.
Cover art: A square image is required. Note that if you plan to send your podcast feed to iTunes and other podcast aggregators later, the cover art should be at least 1400px by 1400px and no bigger than 3000px by 3000px.
Host name: The name of the person or organization hosting the podcast.
Standout From The Crowd
To present your podcast to your potential audience in the best light possible, we suggest you also fill out the rest of the following, for your podcast landing page:
What listeners will get: Explain the benefits of your podcasts, in bullet points. Why should people listen? What are the content highlights? Do your subscribers get additional materials besides the audios, e.g. worksheets, pdf slides, Q&A time with the host? How would your podcast make the listeners' life better?
Long description: Use this space to describe your podcast in more details anyway you like. For example, what motivated you to create the podcast? How are you different from other podcasts out there in the same category? If you have audience testimonials, add them here, too.
Host bio: Tell your listeners how awesome you are.
Add A Subscriber Welcome Message
Scroll down the soundcast editing page, and you'll find a block for "subscription confirmation message". This is a welcome email that will go out to every subscriber on your behalf once they subscribe to your podcast. You can customize this message anyway you want.
Please don't take out the information that's already in the message template (it instructs the subscribers on how to listen to your podcast on Soundwise). But feel free to add anything else you want your listeners to know or do. For example, you can encourage subscribers to check out your website, follow you on social media, or include the links to any bonus materials for subscribed listeners.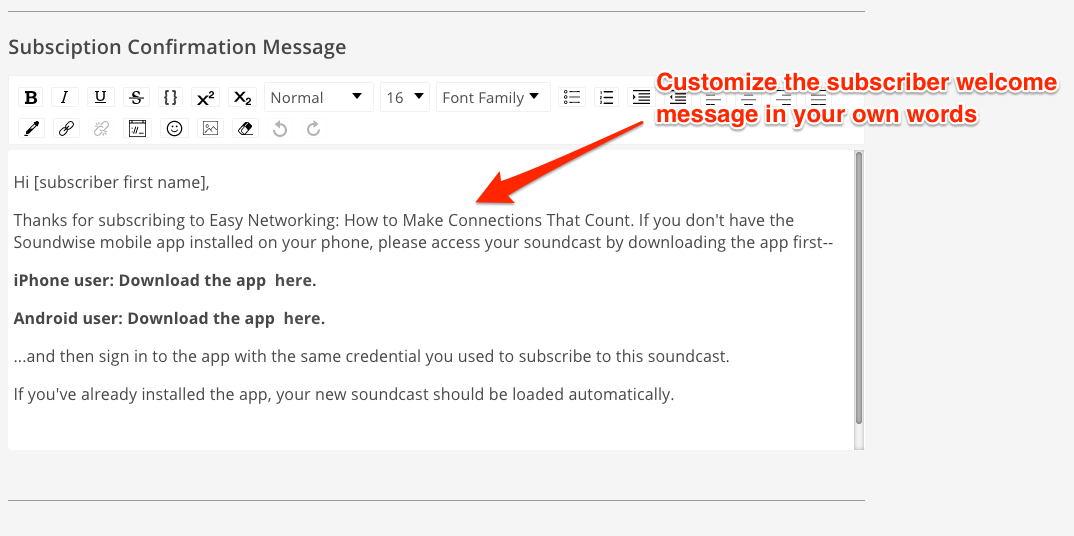 After you finish editing the information, don't forget to hit the publish button. Otherwise your podcast won't show up in the search results and we can't feature it. You can always come back and change the information later.

Your podcast feed can be created when you have at least one episode in your podcast. So our next step is to add a new episode.
Step 2: Add Your First Track
Click on the "Add track" button on the left menu bar to open a track creation page. From there, you can click on the red microphone button to directly record your track, or upload an audio file you recorded beforehand.

After you record or upload the episode audio, add some additional information about your track:
Title*: Your track title should make it obvious what this track is about, to help listeners decide if this is something they'd want to listen to. Avoid titles that gives no information at all, e.g. "Episode 1", "John Smith Interview". Instead, choose a title that is related to the content and makes people want to know more.
Description*: This is the place to put what some people call the "show notes". You can include any descriptive information about your track. For example, a summary of the track, a bullet-point list of the main takeaways, websites/books/other resources mentioned in the track.
Action steps: Do you have any call to action for your listeners after they listen to this track? Any "homework assignment"? If so, include it here. This entry is optional.
Notes: In the Notes section, you can upload supplementary material that provides additional value added to your listeners. e.g. presentation slides, worksheets, background texts. The upload must be a PDF or an image file. This item is optional.
Episode cover art: The cover image you upload here will be displayed on your track's web page, and be embedded in your audio file. If you don't upload any track cover art, your track pages will display the podcast cover art by default. This item is optional.
The Benefit of Action Steps and Notes
These two items are only displayed to listeners who subscribe to your podcast through Soundwise. You can think of them as "premium content" or subscriber perks, and use them to incentivize your listeners to subscribe. If you do have these items included in a track, don't forget to let your listeners know in the track recording, to encourage more subscriber signups.
What about Audio file Tagging?
There is NO NEED to manually add metadata tags to your audio files before uploading them. After you save a track, we will automatically add the tags to your audio files using the information sourced from your podcast and your track. Some audio players grab the information in these tags for display when playing the audio. The bottomline is you don't need to worry about any of this. If you've filled out the information for your podcast and the tracks, you're all set.
After you upload and publish at least one track, you are ready to create a podcast feed.
Step 3: Create a Podcast Feed
Click on the soundcast "edit" button from your dashboard's "soundcasts" tab. Once you are on the soundcast editing page, scroll down and you will see the "create a podcast feed" option. (Note: you'll only see this option after you've created and published at least one track to this soundcast.)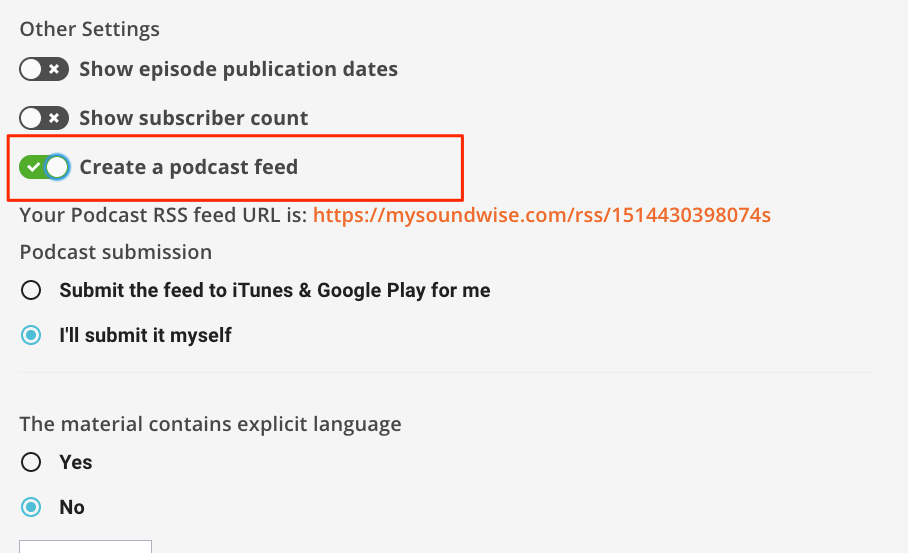 Note that if your original soundcast cover art does not fit the iTunes requirement, i.e. between 1400px and 3000px in width and height, the cover art section will show a blank placeholder, which means you need to upload a new image.
Feed Submission
You can choose to either let us submit your podcast feed for you to iTunes and Google Play, or submit the feed yourself (and also to any other podcast indexing services). With the first option, you don't need to do any work and we'll email you when your podcast is published on iTunes and Google Play.
One thing to keep in mind though. With this option, you won't be able to access your podcast's dashboard on iTunes Podcast Connect. So if seeing iTunes-specific analytics is important to you, you should choose "self submission".
Once you're ready to create the feed, click on the "create podcast feed" button. We'll email and let you know when the feed generation is complete. If you don't have more than five episodes published yet, the process should take just about 5 minutes.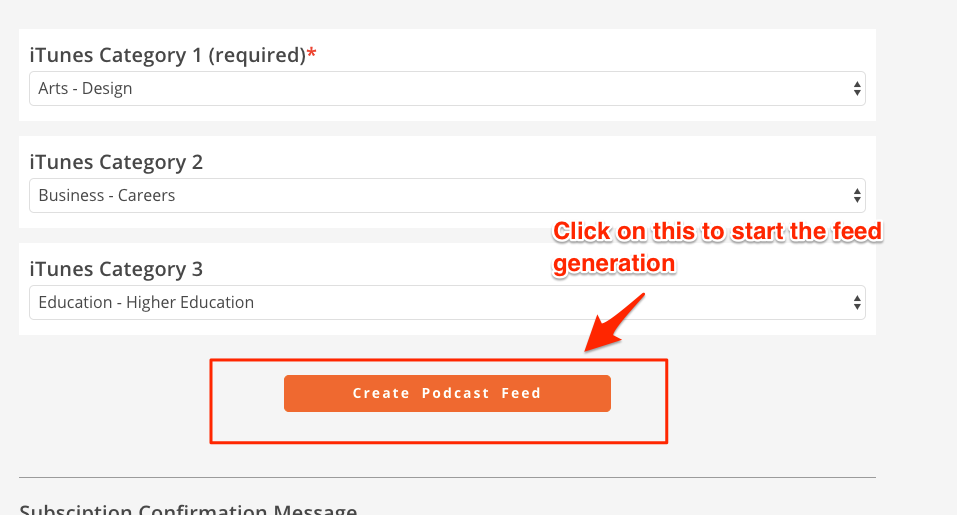 That's all. You have just created and published a podcast! 
After you feed is generated, if you've chosen self submission, you can copy the feed url link we send you, and submit it to different podcast aggregators, so that you can get as much exposure for your podcast as possible. The popular places to submit to are Apple podcast, Google play, and Stitcher.
However, to fully take advantage of what Soundwise offers, you'd want to direct potential listeners to subscribe to your podcast via your Soundwise channel, so that you not only will know who your subscribers are, track each subscriber's listening records, but also start building an engaged, interactive community around your podcast. Make sure to check out our guide on how to get more subscribers for your Soundwise channel to help your podcast reach its full potential!